Production Credits | Production Stills

L I F E ON M A R S

LIFE ON MARS was conceived by Aidan Roberts, David Hollywood and Liam Judson. Songs from Hunk Dory, Aladdin Sane, Ziggy Stardust & Diamond Dogs provided the ingredients for a story about fame, alienation, popschmaltz and more.
LIFE ON MARS was workshopped over a year with an initial performance at Wentworth Falls School of Arts in March/April before re-working for a season at the Newtown theatre in Sydney.
The images here barely do justice to this extraordinary piece of contemporary music theatre...
Production Credits

Concept by AIDAN ROBERTS, DAVID HOLLYWOOD and LIAM JUDSON
Direction and design by DAVID HOLLYWOOD
Music Direction by AIDAN ROBERTS
Choreography by SHARI VEITCH (for Wentworth Falls) and JONATHON ROSTEN (for Newtown)
with performances by
LIAM JUDSON
TIM CREW
REBECCA WALLACE
KELLY OUTZEN
EVIN DONOHOE
ROBERT HALL
JOSHUA MASON
FIONA MURPHY
TANYA WHITE
and
JONATHON HUNTER (guitar)
TIM BATSON (guitar)
SCOTT BEST (bass)
MURRAY SHERIDAN (drums)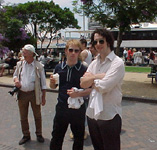 Liam Judson & Aidan Roberts at the MCA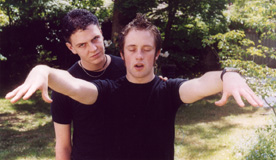 Liam & Tim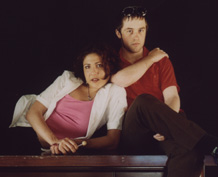 Liam & Bec