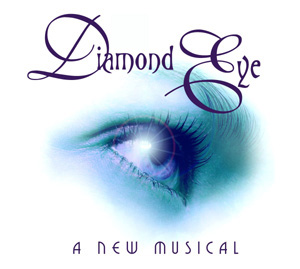 Conceived by David Hollywood, Liam Judson and Aidan Roberts
Music and Lyrics by Aidan Roberts and Liam Judson • Book by Aden Rolfe
Direction by David Hollywood • Design by Joshua Mason
DIAMOND EYE was first performed at the Q Theatre in Penrith in October 2003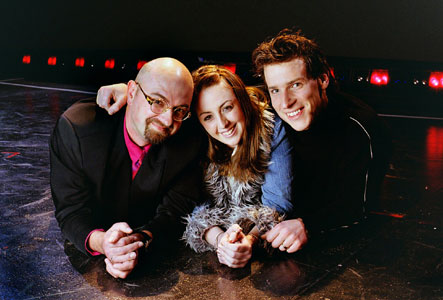 Original cast: ROB WEULE, NATALIE CARBONI & AARON DAVIS

Set in a department store, 'Diamond Eye' is an romantic musical comedy

Created by Out of the Blue for Railway Street Theatre Company, this intimate production was directed by David Hollywood with music and lyrics by Aidan Roberts and Liam Judson and a clever book by Aden Rolfe. Aidan (grand piano) and Liam (xylophone and organ) played live on set.
The production was designed by award winning designer, Joshua Mason and featured a marbled floor with a hint of dietrich's face and a curved curtain track.

On stage, Aaron Davis played the aspiring filmmaker, Tim, who relentlessly films the goings on in the store to the annoyance of department supervisor, Tony, played by Rob Weule. Natalie Carboni is the sales assistant caught between the shenanigans of these two eccentric characters.
The original cast recording is available on CD from Out of the Blue.
If you would like to order a CD please write to Out of the Blue at PO Box 67 Wentworth Falls 2782 including your cheque for $AU30 (includes postage and handling in Australia)